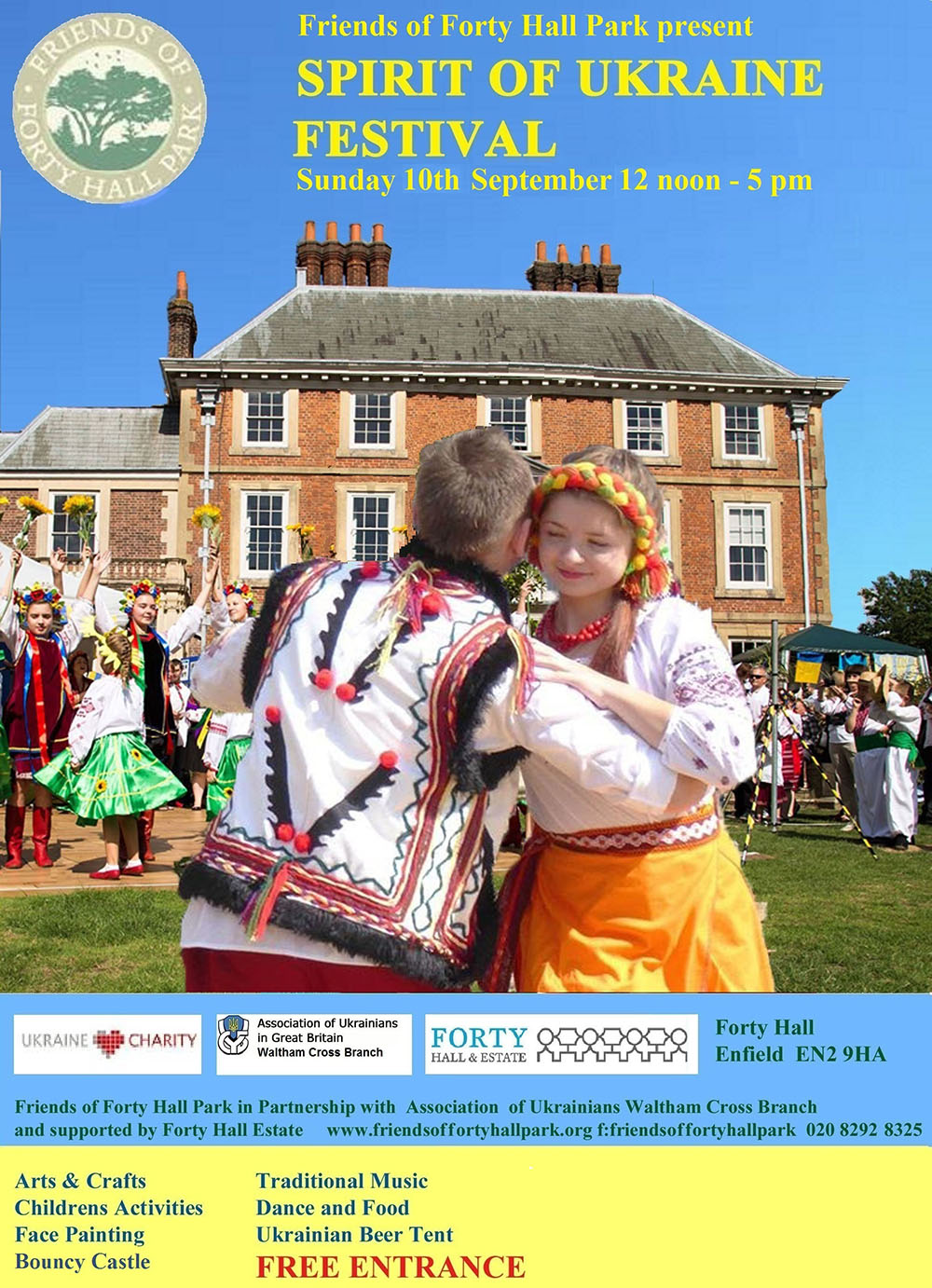 Save
Save
Save
Spirit of Ukraine Festival
Forty Hall on Sunday 10th September 2017
Performance Programme
12.00     Opening (Bread and Salt Ceremony)
12.05     National Anthem of Great Britain & Ukraine
12.10   Greetings from Ukrainian Embassy
12.15 Rodyna (Family) Ukrainian School Whetstone, London – Song and Dance
12.25 Welcome by the Mayor of Enfield
12.30 Ukrainian Youth Assoc Waltham Cross branch part 1
12.45 Welcome by Chairman of AUGB Waltham Cross Branch and greetings from Association of Ukrainians in    Great Britain Head Office.
1.00 Olia Hercules – BBC 1 Saturday Kitchen (Xmas 2016 and Easter 2017 episodes), Food workshop & Q&A re Ukrainian Food  
1.15 Ukrainian Group from Reading – Metelyk – Music and Dance ensemble
1.30 Taras Shevchenko Poem in Ukrainian, with the English translation by the late VERA RICH, local Enfield Resident …WHY WEIGHS THE HEART HEAVY?
1.35 Ukrainian Youth Assoc London branch part 1
1.50 Ukrainian Youth Assoc Waltham Cross branch part 2
2.05  Maria Dziedzan Author workshop regarding her new novel
2.10 London – Ukrainian Ladies Choir Svitanok sing traditional folk songs
2.30 "Von Pasicznyks" . Natalka, Chrystyna and Stepan Pasicznyk perform trad Ukrainian songs translated into English
2.45 Welcome by Oleksiy Soroka Ukraine Charity 
2.50 Ukrainian Youth Assoc London branch part 2
3.05 Crimean Tatar group – perform traditional song and dance.
3.15 Welcome by Alan and Pauline from UK Aid Felsted Charity
3.20 Ukrainian Acton Dance group " Prolisok"
3.25 Karpatsky Zvuky instrumental trio
3.50 Ukrainian Youth Assoc Derby – Hoverla dance group as featured on BBC 1, ITV and TV shows will perform Group dances, music and audience participation. If you fancy trying Cossack steps this is the ideal opportunity to see how easy or hard it really is, and get taught by those with over 30 years experience!
4.20 . Thank you's / presentations / raffle.
4.25.pm Finale – Dance or Zabava with Zhnyva / Derby, London and Reading Musicians, and any previous performing musician who want to join in!
Performance slot times are an approximate guide and content of above programme may be subject to slight alterations. If as anticipated this year some larger communities offer dance troupes, we can combine 15 minute slots into one 30 minute one.
Save